Meh, why not burn a post just to give a shout-out to the nodes on my Twitter network? There's lots of interesting connections made to and from my account.
I'm on eight lists so far. Lists went into a flurry of activity for about two weeks after they announced the feature, and then nothing has happened with lists since. Some lists flatter me - Skypost109-Bloggers describes itself as "Blogs I try to keep track of, funny yet right down snarky at times." Hey, thanks, now I know I'm hitting the mark I was going for. Others are disparaging - BoycottBoys is for "BoycottNovell shills and minions." I guess I must be one of those simply because I use Linux, and so does Roy, Q.E.D.!
Followers really say something about what it appears I'm about. I love this motley crew!
That's a few of the more interesting ones. I just find it amusing to look at the interests of the people following an account, because then you get a composite picture of what you tend to talk about the most. To explain the music interest... One of my freelance writing gigs is working for Songfacts - there I am on the contributor's page. This is going on two years of music study and research and getting the facts hashed out from the fallacies in rock 'n' roll history, so it's really stimulated a music obsession in me to go alongside the technology obsession.
It's the most fun work you could do, but it's had the side effect of turning me into the most insufferable sort of music snob! My tastes are getting so hopelessly eclectic... If you noticed that I put a Playlist widget back on the front page of my site, and no, I'm not kidding about having The Chantels right next to Napalm Death. I really do like both Doo-Wop and Death Metal. And Crunkcore and Country Pop. And Chiptunes and Easy Listening. People are learning not to bring up the subject of music around me, because I could bore the ears off a cornrow about it.
Anyway, Y'all feel free to link your Twitter Twacks in the comments, and anybody else interesting you think I'd like or other readers here would like...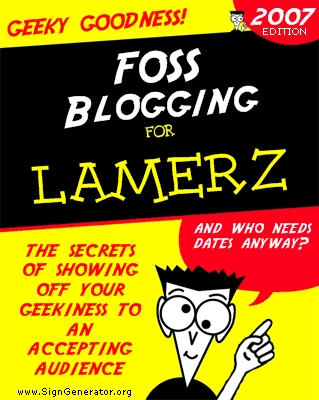 ---