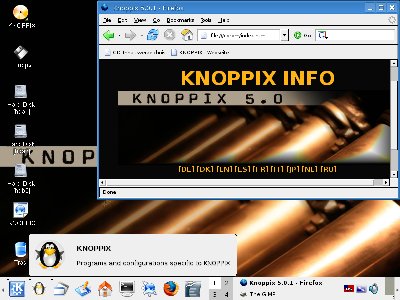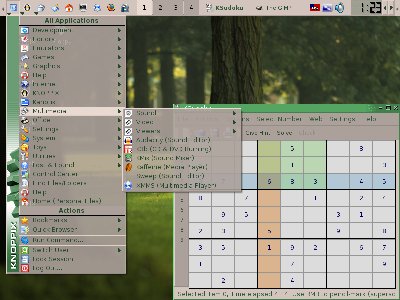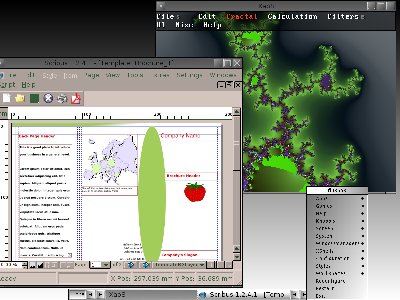 In a word: Knoppix is "Linux in Silk Pajamas". OK, my review is done. Can I go back and play with my shiny new Knoppix, now? Huh, pretty please?
Knoppix has in the past already established itself as the distro that most live CDs envy. But this release meets and exceeds those expectations. I am at a loss to know where to start. How can I possibly take enough screenshots to show all the cool stuff?
As I burned the Knoppix CD, I was apprehensive because my hardware isn't getting any younger and Knoppix boasts the newest stable versions of everything. Linux Kernel 2.6.17, KDE 3.5.2, and many of the installed programs have updated since I last put them on my installed systems. Besides, it's a "0.1" release, which means it's still considered a test release. As I booted on both my PCs, my worries melted away; I can report no problems on either of my i686 systems. Every stick of hardware is recognized on startup and my Internet connection was found and started automatically. Knoppix is many times more stable than "finished" releases of some distros I've tried!
Exploring it takes a while. There is so much of everything, and it all works. Over 2000 runnable applications including Fluxbox, Window Maker, IceWM, LarsWM for desktops, the full suite of Open Office plus Scribus, a bunch of games including a welcome addition to the Open-Source family: KSudoku, a smart Sudoku player/solver which can work in 2D, 3D, 9/16/25-grids, and can handle symetrical puzzles as well. Multimedia graphics, video, and sound editors/viewers/players abound. Knoppix is an all-you-can-play buffet!
KDE's new whiz-bang set of features leave me breathless. KDE has caught up on transparency (both menus and in konsole), added even more eye-candy, beefed up it's installed program base, and - this surprised me - actually seems to run *faster* than previous versions!
When it comes to introducing new users to Linux, others may recommend Ubuntu - and it's OK. But me, I hand them a Knoppix CD. Ubunutu is very conservative in comparison, whereas Knoppix stands forever as a true showcase of the best that Linux has to offer. Knoppix actually puts on a show, knocking itself out to impress you with how cool it is. And it has mass appeal since with such a huge offering, there's something for almost anybody.




---