It occurred to me that with all my graphics tutorials, I have never done any Blender ones. This is because, like everybody else including half its user base and even possibly a few of its coders, I barely understand Blender myself. However, I've gotten stupidly overconfident enough to think I can pull off at least one tutorial. So this will be about boning. Now, some call this "armatures" and some call it "linking" and "rigging" and other colorful metaphors and euphemisms. I call it "boning". You're taking a model and putting the bones in. OK?
So, here's my human model, imported from MakeHuman. I've managed to give her something that resembles hair if you don't look too hard and even labored mightily to imbue her with a facial expression. She'll be volunteering for today's tutorial. However, since boning a whole body will be too complicated for this tutorial, we'll just need a basic limb. How about a leg?
Thank you, volunteer. Now that we've ripped her leg from the rest of her body, we can just work with the leg. Trust me, once you just get boning a limb down, you'll be able to apply that method to boning a whole body.
NOTE: I'm doing this with Blender 2.46, the one with the Big Buck Bunny splash screen. I must say up front as a disclaimer that if you even think of attempting this tutorial with any other version of Blender, before or since, you will lose your mind. Permanently. This tutorial is only for version 2.46. Since every version changes something and makes every previously-written tutorial useless, we have no choice but to specify each and every version down to the last possible snap-shot instant day, hour, and minute. So. Version 2.46, downloaded and installed on May 18th, 2008, at 2:02 PM, Central Standard Time.
I can't answer any questions about Blender. I'm channeling this tutorial through Tarot cards.
So select the leg.
Click the cursor (the little annoying red-and-white life preserver thingie) to the thigh end of the leg. You might want to view the leg from top and side to ensure the cursor is centered.
Hit the space bar to get the menu. Select Add... armature.
Hit 'tab' to go into edit mode. Hit 'z' to go to wireframe mode. Hit your head to go into migraine mode, but only after we're done. You should have this:
Now hit 'g' for 'grab' mode and drag that end of the bone with the mouse until it's inside the knee.
Now, you know how you hit the 'e' key to extrude a section of mesh? It works the same way with bones. So when we're at the knee, just hit 'e' and keep on draggin' until you're in the ankle. Click to set it.
Now one problem: When we hit 'z' to turn off wire-frame mode and see how it looks, we can't see the bone (well, not all of it) because it's inside the leg. So in the little bottom panel labeled 'armature', click 'x-ray' and 'auto 1k' while you're at it. 'x-ray' will allow the bone to be visible in edit mode, and 'auto ik' will make it behave more leg-bone-like when we move it. Also hit 'names' so it will show the bone's names.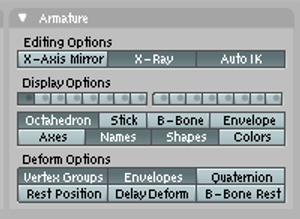 So then hit 'z' and behold:
Now hit 'tab' to go back to object mode. And right-click on the leg - not the bone - to select the leg - not the bone. Then hit 'tab' for edit mode and hit 'a' to select all of the mesh.
Here is what we have to do next: Tell Blender that this leg has to be attached to the bones. To do that, we have to identify the leg and the bones, and explicitly tell each one how it relates to the other. Because computers are stupid.
So under the bottom section called 'link and materials', under 'vertex groups', hit 'new'. A little box pops up; your group of vertexes is named 'group'. Let's keep it at least this real by clicking in the word 'group' and deleting it, typing in the word 'leg' instead and hitting 'enter'. Then click 'assign'. Now all of the vertexes belong to the 'leg' group.
Hit 'tab' to go back to object mode. Now look down at the little boxes at the bottom again, and a new box appeared named 'Modifiers'. Click the 'add modifier' button and select 'armature' from the menu, and you have a new little box. Under 'Ob:', type 'Armature' (yes, of course, it's case sensitive!) since that's the name Blender automatically assigned it this time, and under 'VGroup', type 'leg' for what we named the hunk of meat we're trying to control.
Now, you're in 'object' mode, the leg is selected, and you're this far. Now hold the shift key and right-click the bones. Now the leg 'n' bones are selected. Now hit Ctrl-P (the 'parent' operation), select 'armature', and in the second menu select 'name groups'.
Ah! Whoo! You're done! You've finally gotten a bone inside a body part and taught it to move together! To review the fruit of your labors, use the little mode selector menu...
And then right-click on a bone to select it and hit 'g' to grab it and move that sucker around. Wow!
OK, can anybody see where something went wrong? Most of the leg's moving, but the toes are stuck in space and the rest of the vertices stay attached but stretchy like we stepped in some chewing gum. Oh, God! We didn't add a foot bone! We should have done that. Then the whole thing would move with us. So I did this to illustrate a 'gotcha': be sure that the meat all has sufficient bones in it. In real modeling, you would have not only extended a foot bone, but probably bones for each individual toe, right?
Here's a knight I did a while back for a project which didn't pan out. Just to show that, yes, it can be done right.
Note the bone structure I've high-lighted inside the foot. The way bones behave, the smaller they are, the less skin area they possess with this method. Since an armored knight is a walking tin can and isn't animated down to individual toes anyway, it doesn't matter that we aren't replicating the whole bone structure here. Just enough to make the whole foot come along with the bones.
Hope you got something out of this. For that matter, I hope I can follow it the next time I have to bone something. For further knowledge, I recommend the education and help section of the Blender site, and I also recommend you buy a copy of the Blender Book.
There's no way I'm qualified to do this tutorial, but I searched all over the web and found nothing for this. So now one exists. It will be out of date in five minutes when they release the next version of Blender and play Twister with the interface again, after which time I will be punished for all eternity by angry readers trying to follow this tutorial with version 2.47++ and screaming "I tried to follow this and it's wrong! You suck!"
C'est la vie. (corrected per Perlejade's comment)




---