Yet another big technology corporation is bemoaning the lack of engineering talent for hire in the United States. This time it's Google. With a money-quote from Craig R. Barrett, the chairman of Intel: "We are watching the decline and fall of the United States as an economic power - not hypothetically, but as we speak."
And who is taking our place? Three of the nationalities mentioned as producing prominent engineering talent are Chinese, Indian, Russian. Now, keep those three countries in mind. Let's take a look at a possible indicator, by checking Google Trends for keyword 'Linux', discovering who in the world has Linux on their minds enough to search for it.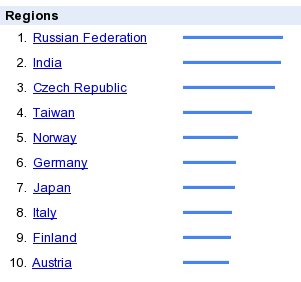 By region, Russia and India are the top 2.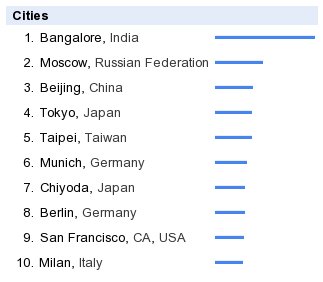 By city, Russia, China, and India are in the top 3.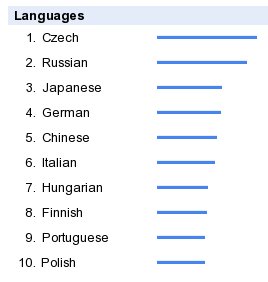 By language, Russian and Chinese are in the top 5.
The US isn't even in the top ten for region, has only one city in the top ten (San Francisco, where all those "libruls" come from!), and English was only tenth for language and dropped off by the time I could snag the screenshot.
Note that Google Trends will change from time to time, but this is a snapshot of today. It's a typical example.
Now, I know the fashionable thing to do at this point is to shout, "Correlation does not equal causation!" Well, no, but it does indicate a tie between events. I don't have to explain that the more engineering knowledge a person has, the more likely they are to have heard of Linux, do I?
I do... but only to Americans. Americans are the ones saying of Linux (and engineering in general), "It's too complicated, it's only for elitist geeks. We have to dumb it down so Joe Sixpack can understand it."
Funny thing is, other countries don't seem to be having problems understanding Linux... or computing in general. Could it be, is it at all possible, that maybe the problem is not that Linux is better suited to engineers than Joe Sixpacks, but that the United States has too many Joe Sixpacks and not enough engineers?
Other countries are happy to do the learning that Americans refuse to do. And, holy smokes, they get more work that way! Wow, what a revelation!
I see this all the time in my freelancing work. Something like 90% of my clients are outside the United States, mostly in the UK, Australia, and Canada. Since my work is in web-related business, for somebody to need my services they have to at least be aware of the existence of an Internet and have at least owned a computer and gotten some ways towards starting a website.
I notice my own little trend: people from other countries are surprised to find somebody like me - living in the heart of the US and yet very tech savvy. I can both deal with the technical side of a website, and write content for the website in good American English. That last part is important, because when it comes to consumers as opposed to producers, Americans are still number one.
At least... until recently. Recently, just this year, I've been seeing more job postings that specify "UK English". And now I install EN-UK spell-checkers. More and more I say 'petrol' instead of 'gas', 'chips' instead of 'french fries', and 'coach' instead of 'bus'. As if I weren't enough of an alien in my home country already.
That's why I giggle when some redneck barks at me, "If you don't like it, why don't you leave?" Hey, I'm the son of an immigrant, my late father having migrated to the USA from Yugoslavia when he was a teen. Where did my interest in computers come from? From my father, who was the first to put a computer in my hands, way back in the 80s. He saw it coming.
And now, every day when I sit down in my home office to work, I already HAVE left America. Professionally, I am a citizen of the world. I could almost declare an embassy zone around my desk. Last American client I had went broke before he could get his business going, and the one before that, too.
The skills are coming from other countries. You want to pass laws to prevent those rowdy foreigners from taking American jobs? Fine, then, the jobs will move to other countries. So now America is going broke. Well, then, the customers will be in other countries, too. There you go, America! You'll be hopping over the south fence to pick lettuce for Mexicans at this rate, but at least thank God you didn't have to join those rotten elitists!
Even that one glimmer of hope I was talking about a couple of posts back, "A Little Start-Up Success Story"? That freelancer he hired was from the Ukraine (hint: it's close to Russia), and the eventual staff of 20 employees he assembled were from five different countries.
America needs a renaissance, and it isn't going to get one. The Old World Dark Ages ran for a good 500 years; America is just starting its own. There is no easy fix; there aren't even any hard fixes. The problem isn't the economy or education or government, but culture. The United States has developed a culture of entitled laziness, and other countries do not. It's as simple as that.
This is part of the reason why I've been blogging less and less and focusing my efforts on new horizons. To get more engineers, first we need young people who want to be engineers. To have that, first we need a culture of encouragement for those young people to grow up in, where learning is honored instead of spit upon. That culture exists in other countries, but not in the United States.
It's never happening here in my lifetime, so I'm going to stop hoping for it. End of line.
Update: And lo, it came to pass, that the testimony of Penguin Pete was echoed by a top Indian CEO. Americans are unemployable.
"Many American grads looking to enter the tech field are preoccupied with getting rich, Vineet said. They're far less inclined than students from developing countries like India, China, Brazil, South Africa, and Ireland to spend their time learning the "boring" details of tech process, methodology, and tools--ITIL, Six Sigma, and the like."
Got that now? What Mr. Vineet means, but is too polite to say, is that Americans want something for nothing ("preoccupied with getting rich") and don't want to WORK ("spend their time learning") !!!
I wish I could just beat this into people's heads. Americans are throwing themselves in the trashcan. None of them heed what any of us around the world are trying to tell them. They're too busy being rednecks screaming "Were numbur WON!" and denouncing you as unpatriotic or elitist if you tell them that they do ANY wrong at all at all.
The country that was so precious, it was worth spilling the blood of hundreds of patriots for only 230 years ago is now not important enough to think about for one minute. Never was something won so hard with so much toil and then wasted with so much apathy.
Update two I go to bed and get up, and there it is as currently the top submission on Reddit. Did the Americans respond the way I said they would? Of course they did!
Update 9/7/09: I like this quote I just saw: "No, this is the latest battleground, because America, its discourse and its governance has, to put it as tersely as possible, become all but enslaved to the stupidest, most uneducated, trashiest, most fanatic, most incompetent, most mentally unbalanced, most flat out fucking dumb set of people to ever manage to walk upright." - That's even more to the point of what I said, without as much sugar-coating.
Where do you think that quote's from? No, not some 2-bit political ranter, but the Daily Kos.
Sheeeeesh! Nobody ever should accuse me of being radical again.




---