So there's this game they play on 4chan. You make up a fake, random album. This image, typically posted at the beginning of the game in the /mu/ folder, explains it well:
And I thunks to meself, "That calls for a good Bash script!" But I'm not good enough at hacking to make a good Bash script. So until somebody writes that, here's a lousy Bash script called "make_album.sh".
It uses lynx, wget, and Image Magick plus the whole set of Unix-standard text-mode tools to...
Grab a random page title off the Wikipedia random special.
Grab a Wikiquote quote. It does a lot of filtering to get it down to a (hopefully coherent) phrase.
Grab a random image from Flickr's seven-days recent pool.
Use Image Magick to process the image into a square, the way 100% of CD albums are shaped.
Use Image Magick to create a couple of text labels, one for the band and one for the album title. It's tough to match every background case, so I do one in white-with-black-outline and the other black-with-white-outline. Resize if necessary so they fit.
Combine image, band name at top, album name on bottom, and save the image as "Album_Dada.jpg" It's up to you to look at it and decide if it deserves to live, or run the script again and get a new one.
From running this monstrosity in a loop, I managed to get all of the following from a pool of just 200 tries. It is eerie how low the dud factor is here - most of the time duds are due to
Bad font. I have zillions of freebie crap fonts on my system.
Poor word selection. I tried to wriggle this around, but sometimes it's a sentence fragment or nonsense phrase. Nothing you can do there. This is why we need the HAL 9000.
Illegible. Font too small, funky colors, etc.
This script is not for beginners! Anybody familiar with last year's Image Magick banner generator will remember how complicated my efforts can get. You'll at least want to take a look in it, check to see if it's looking for fonts in the right place on your system (Mine has it where Ubuntu expects fonts to be, but who knows what in blazes is going on on your heap?), and run the script in a directory of its own, so it doesn't overwrite anything like an image you might have saved called "temp.jpg".
That being said, sit back and check out what kinds of crazy results we get!
There's the just plain realistic stuff...
...because SOCIETY IS COMING!
I'm kind of sad that I'll never hear this one.
Come on, she was just posing like this just knowing my script would come along and make an album cover out of her, wasn't she?
Tell me politics doesn't feel like this to you most of the time.
...with DUCK KILLING DUCK! In mid-air!
Ones that had a bad font malfunction but turned out right anyway...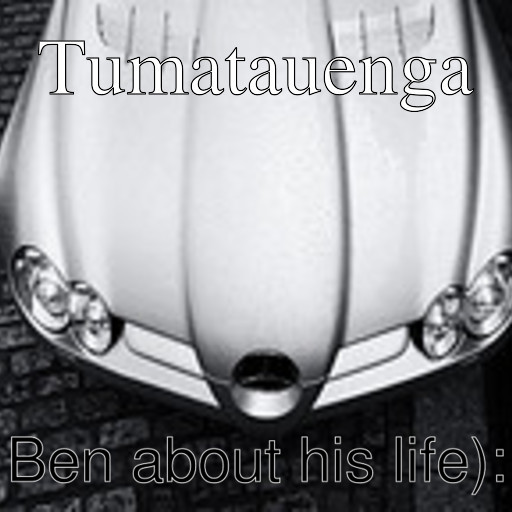 Ben seems unhappy about his life. Even with his nice car.
Look! That guy's running away!
Led Zeppelin is kicking itself right now for not thinking of this one.
Ones where the script made an uncanny image or title matching choice...
We have a man down!
...the kids look a little young for high school, but hey, not bad.
If you can't see the title, it says "Because the house always wins."
...that place where you go to get away from it all.
"Travis burns his lunch" would have been even better.
Perfect for a demo tape. Playing on the laptop, of course, while the executive invites others to listen in.
And some worth special mention...
Best font match to subject.
Wow. Powerful horse, powerful title.
See, it's a cafe, the guy is looking to the empty seat to the right, and having said the album's title, his freshly-dumped girlfriend apparently had no regrets at ending this. Adios! And now he's left with his words hanging in the air, alone. Screw it, I could start a movie this way.
Best all-around. Great harmony, looks like it was planned out.
I looked it up, and "Adult Digital Distraction" is like the Canadian version of "Adult Swim." But here, they sound like a folk-rock band that opens for Phish a lot.
The heck with an album cover, "I've Fought More Monsters Than You" just became the title of the autobiography I'm going to write. Complete with the image.
Sometimes the title makes the entry!
Funny, with all of the parenting movies Steve Martin's made, if he were to release another album of his stand-up comedy, I imagine it would be called "That's something the kids should know." Even if you can't quite read it down there.
You just know this is a whiny emo band.
Wow! Now I have to start a pretentiously arty indie band just to go along with the album cover.




---