From here on out, game reviews for abandonware DOSBox titles should be in the fall and winter. Who wants to play video games when it's 76 and sunny out? But after the time change, when the sun drops dead as soon as you get off work and the frost is forming by six, that's the time when you want classic DOS video games. Because there's only so many hours you can spend reading the Internet before you go all Jack Nicholson on the snowbound household.
Cartooners

You're not going to believe this, but Electronic Arts published this way back in 1989. Yes, the same people who brought you The Sims! This is a doodle toy, plain and simple. Click and drag backgrounds, props, actors, and speech balloons to create little frames, which you can animate and add music to and so on. There must be 100 Flash applications online these days that let you do the same thing in your browser, but in 1989 this made everyone who owned a 386 PC into the next Warner Brothers, as they, too, could now make up frames about dogs and their pet crows with crushes on cats, who had no idea, while a squirrel watched the whole scene with a mocking grin. Sadly, you could not make them get so wrapped up in cooking dinner that they peed blue puddles on the kitchen floor and then wept in shame. You'd have to wait for the Sims for that. Get it here, you wascally wabbit.
Jeopardy

You haven't lived until you've heard the Jeopardy theme in 8-bit PC-speaker beeps! This early, CGA version is kind of crude, although it's hard to say how much in relation to others - I've played Jeopardy on everything from Super Nintendo to Windows PCs, and the interface is always clunky and you end up blowing a question by spelling it with a hyphen when it has none or vice versa. It's just that kind of game. One thing I notice on this version is that you will not have time to read the clue before one of your opponents rings in, even if you're Evelyn Wood. I've tried slowing down the simulation with Ctrl-F11, and it doesn't seem to help. The only way to make it a fair game is to pause it (Alt-Pause) and then you can read it slowly, go look it up in Wikipedia, call your friend, whatever. However, your computer opponents will suicidally ring in and blow questions sometimes too, so it's up to you. Find it here at What Is Underdogs?
Wheel of Fortune

Yet another CGA game show DOS port! These things were lousy common back in the '80s, lemme tell you! Not like these modern TV game shows where the only skills you need are lying, gossiping, and figuring out who's got an alliance going with whom until the final four. Anyway, this is actually quite playable and enjoyable. I'm kind of puzzled at its playing Stars and Stripes Forever after a puzzle's solved, but maybe that's the only song they could get a license for. Vanna in 8 bits rocks. I'm stalker-crushy in love with 8-bit CGA Vanna. Here it is.
LHX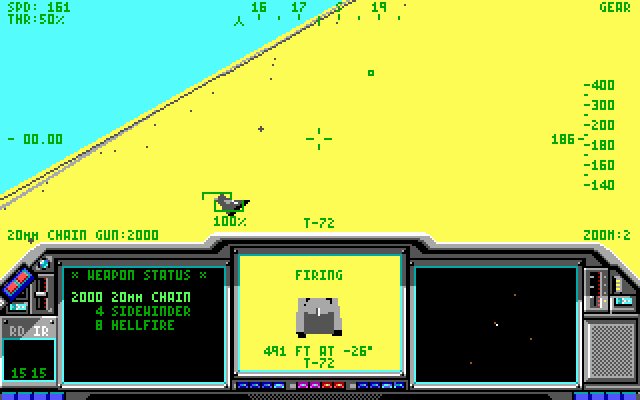 Probably one of the best-kept secrets of early-1990s DOS gaming, LHX is an attack helicopter simulator. And it is outstandingly impressive for its time! The downsides are that the graphics are rather dated now and the controls take some learning, but once you master it, it will provide days of challenging play. Fly combat missions across terrain both desert and jungle, day and night, facing a huge cast of both ground-based and air-based enemies who have some pretty keen A.I. Lots of features to tweak with. Plus it has the realistic touch that when you're hit by enemy fire, it might take out one of your capabilities while leaving the rest intact, resulting in some dicey situations which are still winnable. Get this classic here.
Castle of Dr. Brain

Dr. Brain seems a rather eccentric character, with his peculiar taste in decor and fondness for locking everything with a puzzle. This is amusing fun for kids and kid wanna-bes, but doesn't have much reply value since the majority of puzzles are the same, or very similar, every time. Dr. Brain had a whole series out there. This is candy for old Infocom and Sierra fans, having some of the same flavor. The puns, for instance, made me groan about as loud as anything Sierra pitched at me. Will also require passing a copy-protection trap at one point; Abandonia has both the game and JPG of copy-protection codes.
Stunts

Stunts gets special mention as the greatest driving simulator of the DOS PC era, certainly one of the better ones available on the PC, and possibly one of the best (but not realistic!) driving simulators ever, period! To deal with the nitty-gritty, I had the best luck playing the 'stunts_k.exe' version; when it asks you to enter a word from the manual (now lost in time) just leave it blank and hit 'enter' - the game should start anyway. That includes a custom-track builder, and you can also download and install custom cars and other player's tracks. Now then, if you want to talk to some real fanbois of this game, head over to ZakStunts, where you will be enthusiastically indoctrinated, and also check out the Stunts Wiki, for tips and reviews, and the Stunts racing portal for a jumping-off point to much, much more. That's right, this driving simulator from Brøderbund Software in 1990 still has an active, vocal, foaming, ranting, international fan club today! Join the cult when you download it here.




---